DAY#170 - I'm going to Disney World!
So Brian, now that you lost all this weight, how are you gonna celebrate?
I'm going to Disney World!
Miriam ran into the living room yesterday and announced '2 months to Disney.' Well, we are truly a few more days out than that, but we are leaving the first week of November so she was almost right. However, the excitement in her voice sent a small electric charge through everyone in our family. That spark was enough to jump start the final phases of my Disney planning.
Since I seem to share everything about me on my blog, you are gonna get a little bit of my Disney obsession today. I love Walt Disney World, my first trip was in 1976 and I have been back numerous times since. I enjoy most everything there. It is a fun place to sit back and enjoy being entertained while you learn some things along the way. And just when I thought I was growing out of my infatuation, I had kids and now I get to live the magic with them, and to be honest, I love it even more now.
My wife's take is slightly different, she loves Disney too but at a slightly slower pace than me. SLOW DOWN is her mantra, she is a stop and smell the roses sort of girl who has been partnered with a do it all, see it all, conquer it all guy. But in the end my love of Disney wins out and I end up running from ride to ride, show to show, preferred seating to preferred seating for as long as my vacation will allow. I have consumed several books, read complete websites, own 5 iphone apps and an insiders subscription to give me every edge when it comes to planning the perfect Disney Vacation.
I started planning this vacation while on my last Disney vacation and the planning has continued at key points in time for the last year. This year will mark our longest trip ever with the most stuff planned ever. To confess my true sickness would be to show you a picture of my google spreadsheet where I have every day planned and every reserved seating recorded. Here it is in super small version, and yes, I blurred out all the important stuff, I like my vacations with my family. Cause I know all you crazy people who read my blog might attempt to join us.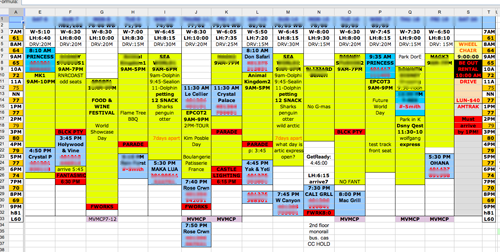 If you think my spreadsheet is normal, then I will 'one up' that with my book. Yes, I said book. I have compiled and am finishing up a 80+ page guide to our vacation. It takes the reader day by day through our vacation, and outlines the maps, shows, restaurants & menus. When it is complete I will print out 3 copies of the book and also turn it into an ebook for consumption on our iphones and ipads. I did this for a few reasons. First of all, I needed to get better acquainted with Adobe InDesign and the best way was to work on a fun project (wink, wink). Secondly, my mom and mom-in-law are joining us for this vacation and I wanted them to have as much info as possible about what we are doing. Thirdly, i thought it would be a cool way to channel my positive Disney energy.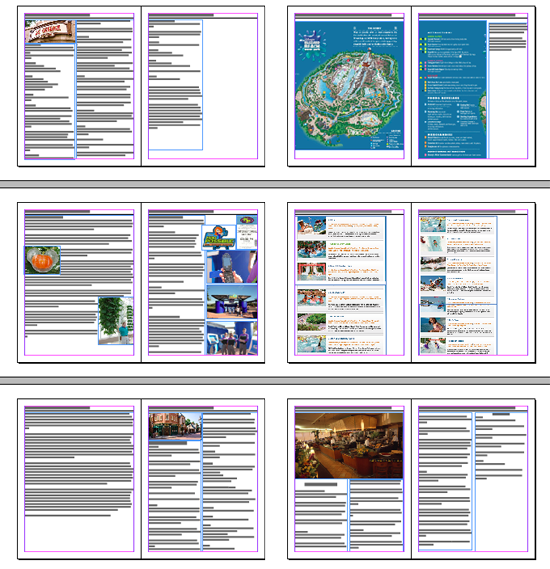 Ok you can haul me off to the funny farm now. Yes, it is true I am a Disney lover. And this is gonna be the best vacation ever! I am stoked! As you can tell from my slideshow at the top of my webpage, one of the reasons I wanted to lose the weight was to be able to have more fun and do more things with my family. And this vacation is high on that list. Oh to not sweat buckets while walking in the warm Florida sun. To have energy to chase down Lois as she makes a running break for a character she sees across the park. To be able to comfortably share a seat on my favorite rides with my kids. To not be gawked upon. It shall be a blast.
How do I plan on maintaining my new 'figure' while on vacation? Very Carefully. I have been slowly identifying foods that seem to not work well for my body and I plan to avoid them more often and eat my 'happy foods' instead. However, I do plan on having my fair share of mickey ears and pigging out at Ohana's my favorite dining experience. (We are going there twice : 0 ) So I am joining Miriam in her countdown, I can't wait to go back and experience Disney as the new Minnie-Me.
[2010-09-01]