DAY#176 - Baby Got Back
My Grandma Smith is one of my favorite people of all time. She lived down the hill from me when I was a boy and I would walk to her house often. A visit to her house consisted of helping her do her chores while singing the choruses of hymns. She always had some sort of homemade cookie or cake for an afternoon snack and a glass of punch.
I think Grandma loved all her grand-children equally, but I was lucky enough to live the closest so I had the benefit of spending more time with her than most. I was also the oldest of the grandkids which is how she would introduce me to her friends. She always made me feel special.
The last time I lost weight my Grandma Smith was so pleased she offered to buy me a suit. She wrote me a note and asked me to go buy a suit and send her the bill. Unfortunately my weight loss didn't keep and I fell back into a rut of my old eating habits and gained my weight back. I was so sad with my failure I never took my grandma up on her offer. I told grandma I needed to loose my weight again and be happy with my size and then her and I would go together and buy the suit. I didn't want grandma to spend money on a good suit at a weight I didn't want to be. So I took her card and stored it in my keepsake box. It has lived there for over 7 years.
In the past few months as my weight has gone down, grandma has been reminding me of her offer to buy me a suit. She has been intent on getting a suit on my body and I must admit, she has been very patient with me. We last spoke a few weeks ago and I assured grandma that we would go suit shopping. I told her I was hoping to wait till March of next year, I wanted to stabilize and maybe take off a few more pounds and then get a suit before Easter. She seemed okay with that decision and I marked it on my calendar.
Out of the blue, Grandma called on Saturday. "Brian I was just watching the news when I saw a commercial for the Mens Wearhouse, They are having a Labor Day sale. Buy a suit, get a suit free. I think this is the time. I WANT YOU TO GO GET YOUR SUIT ON MONDAY!" There was little arguing to do, grandma sounded like her mind was set. I had no choice in the matter, my suitless days were numbered. And getting 2 suits for the price of one sounded like a good deal. I talked it over with Shelly and called her back and off we went.
I had never bought a suit before in my life. I guess at 40, I was due. We went to the Men's Wearhouse in Harrisburg, I only chose Harrisburg cause it was closer to Grandma's house than Lancaster. I got measured immediately upon walking in the door and was informed that I was a 48 regular. This came as pleasant surprise to me because I thought I might be a bit larger than that. I am a pretty wide shouldered guy so I wasn't expecting a small number. We walked over to the 48 coats and tried one on. I truly thought it would be too small and the young buck who measured me would be wrong. However it fit well. I was a 48R, a nice surprise. I had bought one sport coat in my life when I was going to LBC. I bought it 21 years ago in 1989 at the time it was a 52. I am now smaller than I was in college by 2 sizes. COOLNESS!!!
So we went through the rack of suits, Shelly was attracted to tuxedo jackets. I had no real preference, cept I do like darker colors so I was going for black or charcoal. After asking grandma for her input she said that grandpa had a pin striped suit and she liked it so maybe one with a stripe would be nice. I must say the salesmen while being helpful did not smile and were slightly short in their conversation. They were not rude, but their demeanor didn't make me want to buy more items from them. (I figured it was the sale and the busy day that had them a bit off their game). After a few minutes of just staring at the rack, I found a jacket I liked and put it on and the salesman walked over to me and said. "NO, NO this is not the right cut for you." I inquired as to why and he informed me that the jacket was marked as an executive cut. Fearing that he thought I wasn't executive material, I asked what that meant. He then informed me that executive cut was for people who were bigger around the middle than their chest and needed some more room in their jacket. The executive cut was too big for me and I needed something that would fit my regular proportions. REALLY? I need the NORMAL proportioned jacket? How freaking cool was that? In the mens formal wear world I am normally proportioned for the first time in my life!
After a few pieces of advice, Grandma went to have a seat on the row of chairs across from the dressing rooms to wait for my fashion show. I picked out a handful of suits to choose from and a tux and was off to get my fashion on. On my way, the salesman stopped me cold. "You are gonna get a tux?" I replied, "my wife likes it and if she likes it, I am gonna try it on, I get two for one money so what does it matter?" "Well do you have any occasion to wear a tux?" Smiling I replied "Sir, I don't even have an occasion to wear a suit, so what does it matter." But after looking at the price tag on the tux I put it back. It was the cheapest of all the items I liked and if I buy one and get one I was gonna get a more expensive one for free.
I handed Shelly my iPhone and she snapped a few pictures of me trying on my suits. I modeled 4 suits, 2 black and 2 charcoal pin striped and let grandma choose her favorites and then I got fitted. We picked out a set of ties and dress shirts and made off with our purchases. All in all a good day's work. To my surprise, when we got home I took a look at the pics Shelly had taken. I had not seen my backside in a long time and was slightly shocked. I think I looked like a normal human. Not the chubby hubby I was used to seeing. So I am attaching a picture of my posterior for your viewing enjoyment.
Where is the rest of pictures of the suit? Well, the alterations to the pants (they needed taken in, :) ) will be done by the middle of next week, so once I pick them up I plan on snapping a few pics and posting them. Next week also marks 6 months since I started my lifestyle change journey so it will be a fun way to celebrate. So join me next week to see the newer, slimmer, dressed up me. For now, enjoy my backside. :)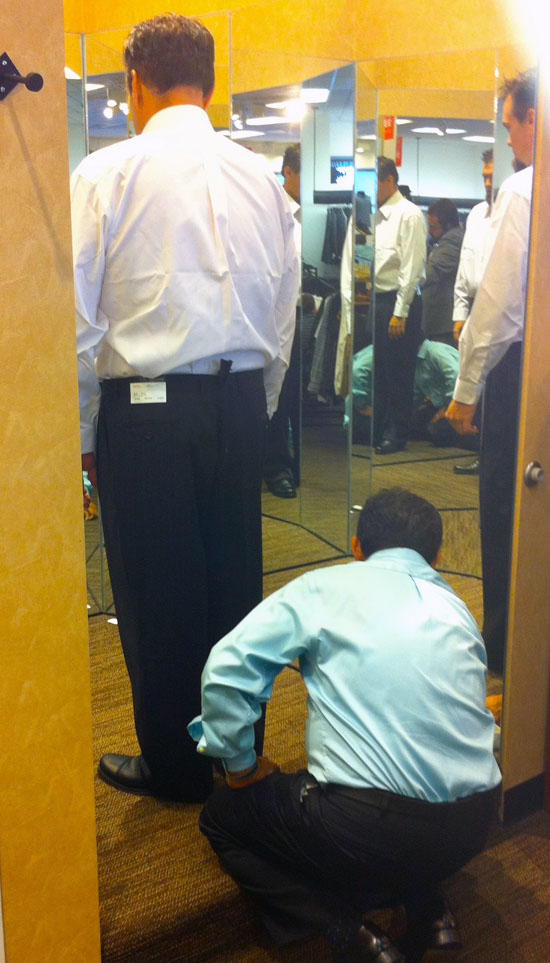 PS. Thank you grandma for the suit. I will keep it, the note you wrote me and the receipt (with your note) for a long, long time. To be honest, the suit means more to me than what you know, but your friendship and grandmotherly love that you have shown me for the past 40 years are priceless and they will never leave me. thank you, love you, Brian
[2010-09-07]