DAY#186 - Desserted!
Last night if you keep track of my exploits on Facebook you will have seen me dressed up for a night on the town. My wife and I decided to make use of one of my fancy new suits and went with our friends Pam & Dave to the Hotel Hershey to eat in their Circular Dining room. It was a fine night filled with good food and fellowship. And something that I had not truly experienced in full.
I had dessert. A full serving of my own. I have not eaten a full dessert in many many months. I had dipped my toe into the dessert swimming pool to test the waters about a week ago with half a cannoli but that was as far as I had gone. Last night I jumped in over my head. For dessert I ordered the Black Walnut Apple Butter Torte with Quince Compote and a Butter Rum Sauce. I had told Shelly ahead of time I may not finish my dessert and might be sharing with her. But after my first fork full I was sold. I did share two bites with her but the rest was mine.
I had begun my meal rather conservatively and passed on the bread and I had also skipped my White bean cassoulet that came with my Scallop and Shrimp sausage to conserve carbs. However, I am sure those consolations paled in carb comparison to my dessert. It's time had come and my starch and sugar free run came to an abrupt halt. It was worth every bite. I am glad I dove in.
In the back of my mind I did wonder about my morning weigh in and my blood sugar which i do keep track of. I was thinking they both might take a small jump for joy. But my morning after came and went without event. this morning my weight was 231 and my sugar hadn't jumped from the last time i took it. So much for that. I am not planning on 'desserting' myself daily or making sugar and starch heavy items a main staple of my diet. But the next time I decide to take a bite I am not gonna fret either.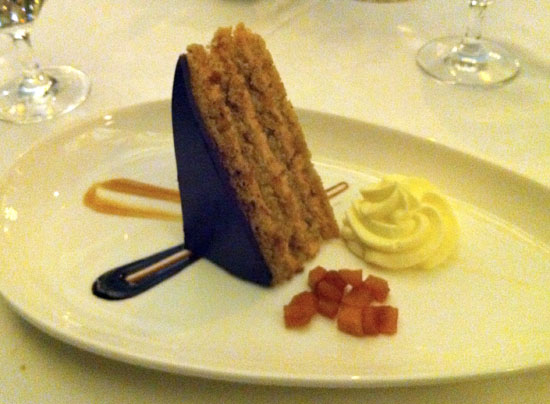 By the way that was dark chocolate on top, twas killer.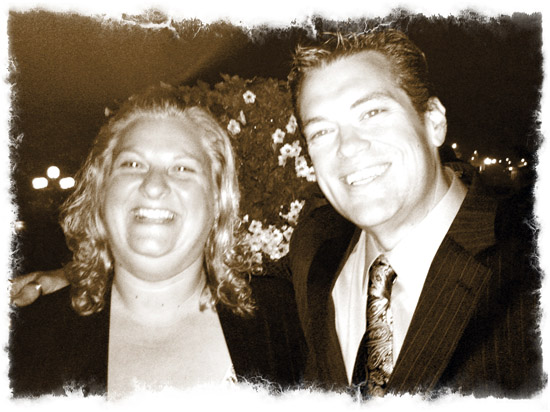 Pic of my wifey and I walking around in the formal garden after dark :)
[2010-09-17]