DAY#299 - ROUND 2 Progress Report 1
Snow is gently falling outside, our house is clean, Saturday jobs are done and Mr. Scale has been very good to me this week. All is right with the world, *SIGH*. So what did Mr. Scale say? He said I lost a ton of weight! For those of you who count from loading day 1, I am down 18.8 pounds. For those of you who count from the end of loading days like the protocol suggests I am down 21.3 pounds. Either way I am way down. I currently reside in the 240s and hopefully by next weigh in I will be back in the 230s where I ended Round 1. Yeah, if you do the math I put on a bunch of weight over the holidays. This was not a good thing, but I am taking a few lessons from it and hope it makes me wiser in the future.
One thing I have learned. . . .I am pretty dense when it comes to my body. I am sure it has been screaming at me for years yet I just ignore and plod ahead. As my healthy journey continues thanks to counting calories and weighing daily I have become slightly more aware of what my body is up to. One thing I have discovered and I am sure I write too much about is water weight. During the past few months I have definitely noticed when I eat too much or the wrong thing my body holds in water to process it. Which causes a jump in the scale and should be a sign that something is up (literally).
I know for sure that after eating at a restaurant I can easily go up in weight 3-4lbs the next day. The good news is if I stick to my eating plan the next day my weight will go back to normal. However If I string a bunch of bad days together. I can really mess myself up quickly. Since I have had my ring size reduced and now wear it on my ring finger again I am starting to notice a trend with the amount of extra or should i say the little amount of extra room I have on days when I am eating bad. It is almost like a barometer to my health. When my ring becomes snug I now know I am not doing good and I need to take a chill and allow my ring to loosen. Hopefully I will keep this in mind as i move forward with regular eating after HCG.
my ring pix: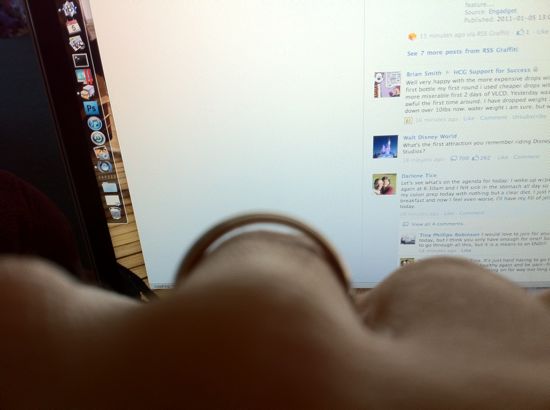 Example of the amount of room I have left when my body is holding water and I have been eating yucky stuff.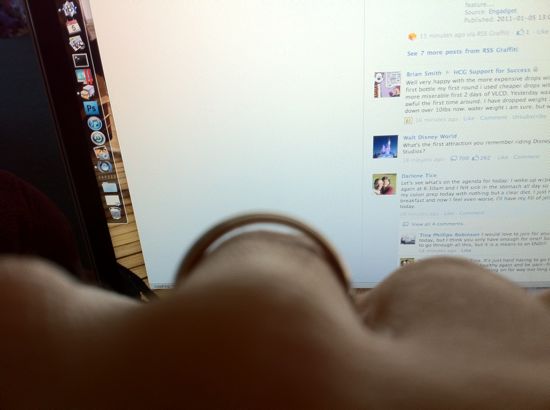 Here I am with lots of room to spare a day of better eating later. Water flushed. :)
[2011-01-08]