DAY#324 - Spinach Chips
I followed a few friends who have been talking about making some spinach chips and I made them. Not bad, actually I am sure they could be addicting. You take a bag of spinach and lay it out on a parchment paper covered cookie tray. Or i used my wife's
Paula Dean Silicone baking sheet
(it worked great). Just do not try this without the paper or silicone sheet the leaves will stick to your pan :( . Pop them in the oven at 350 degrees for 6-8 minutes. Just need to keep an eye on them to see when they are dried out and crispy. (mine took 7)
I also took a friend's suggestion and I used a Misto and put some Apple Cider Vinegar in it and covered them all with a light spray of ACV. Then I used a Garlic salt grinder and sprinkled them and stuck them in the oven. Seven minutes later I devoured them still warm. Something crunchy in my mouth that was on protocol and wasn't celery.
So next, some hot chips, gonna load Misto with some Hot sauce and sprinkle with cayenne. Then maybe try some basil ones. Also I am gonna cram a few more leaves on my sheet next time. Thanks to whoever passed me original idea. I used it. It worked. I took a picture for those who need pictures :)
Also while on the subject I love my
Misto
. You pour liquid in it and then pump it with air and it gives you a fine aerosol mist. Great for lightly flavoring things and much nicer than the spray bottle I bought at Walmart. Like putting braggs on your salad or ACV on some spinach. I originally purchased it to spray olive oil on pans like PAM but I found a ton of uses. I need to buy more.
Ok have a great day.
PS. I also added a new feature you can now leave comments to every post you can find a link at the bottom of every post. Enjoy!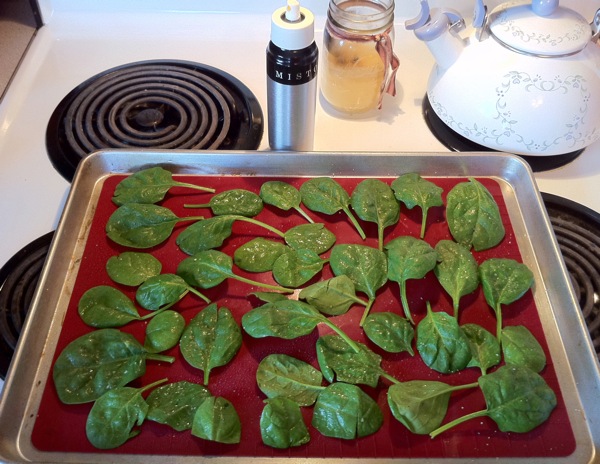 [2011-02-02]