DAY#334 - ROUND 2 Progress Report 6
You never know what a week will bring. And this week has been a roller coaster. I started the week off feeling a bit odd and slightly depressed over my slowed weight loss and I am ending my week on a much better note. Amusing to say the least. If you want to be filled in on all my drama you can read my older posts.
This week I lost 5.2lbs just a a pound more than last, but my brain and brain functioning is doing much better. Which means I can survive for a few more days. Also my week-week yesterday was 7.4lbs loss, i had a big drop last friday. So depending on how you look at it my weight loss has accelerated a bit. I also got out Mrs. tape measure and recorded my measurements. I lost at least an inch this week in all my major areas (Hip, Chest, Waist). this was good news. My weight loss is slowing but I am taking of inches. Good Deal!
Currently I am in the middle of my virgin coconut oil experiment and plan on evaluating my progress tomorrow. So I will let you know my specific thoughts about VCO and how I plan on continuing my process tomorrow. That gives me another 24 hours to figure it out myself.
One of my highlights from this week was stopping at Carrabba's in Lancaster with my wife and getting her some yummy italian food. Before starting HCG we had been going out to eat every other week and I purposely try to still do that while on protocol. I do not order anything for myself but my wife is working on her weight through lowering intake and exercising so Carrabba's is fine fair for her and she deserves a break and some yummy food she didn't need to slave in the kitchen for.
We love Carrabba's is by far our favorite restaurant currently. Yummy good food made fresh over a wood burning grill. If you are buying us a present for our birthdays, anniversary(hint, hint, MOM), or if you want to thank me for being a good blog writer ( LOL ). The gift that will impress is a Gift Card from Carrabba's Italian Grill.
Carrabbas's even has food I can eat on Phase 3. I will wait till at least Phase 3 week 2, but it is the first place I am headed. For p3 I recommend Chicken Pollo Rosa Maria, you just need to order it with the veggie of the day vs. pasta and you are good. Carrabba's also has this very yummy blend of dipping spices they mix with olive oil and serve with fresh baked bread. I avoid the bread obviously but the spice smell killer and taste killer too. So I got and idea.
I asked the waitress if i could but a small cup of spices to take home. The answer was yes and I was a happy man. I came home with a small soup cup with dipping spices in it. Yesterday, I coated my chicken breast in it and fried it up in my non-stick pan. It was awesome. I have enough for about a weeks worth of chicken so I am set!
I have now gotten a cheap idea and searched the internet till I found the recipe for the spice combination and am planning on making some more for myself once I run out. I snapped a pic so you can see the herby deliciousness for yourself. Also check out
Carrabba's Italian Grill
it is a great place to eat and it even boasts a
gluten free menu
.
The yummy herb mix: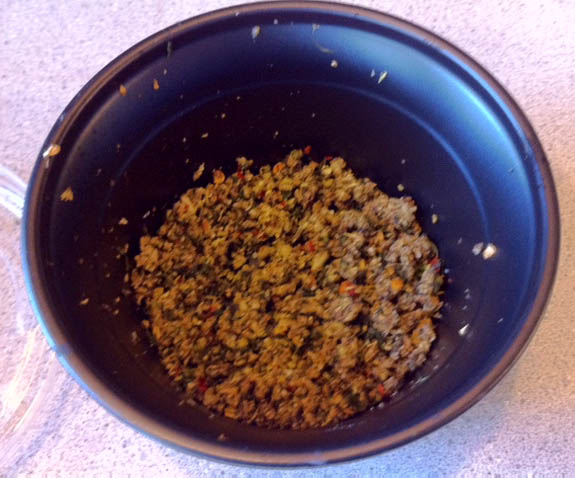 My herbed chicken: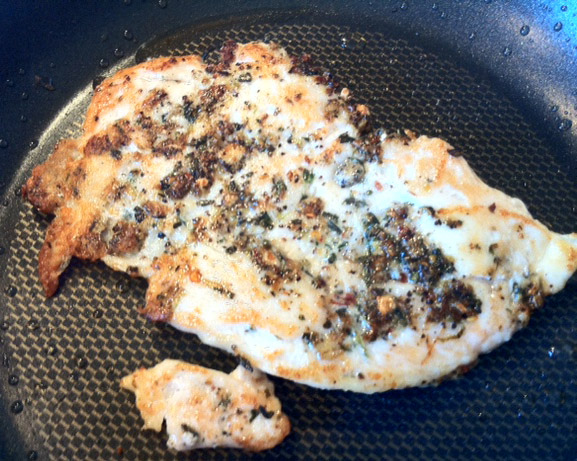 Here is the recipe I found, FWIW:
Carrabba's Bread Dipping Spice
(I use on my chicken)
1 tablespoon minced basil
1 tablespoon chopped parsley
1 tablespoon minced garlic
1 teaspoon dried thyme
1 teaspoon dried oregano
1 teaspoon ground black pepper
1/2 teaspoon kosher salt or 1/2 teaspoon ground sea salt
1/2 teaspoon chopped rosemary
1/4 teaspoon crushed red pepper flakes
1/2 teaspoon olive oil*
1/8 teaspoon fresh lemon juice
http://www.food.com/recipe/carrabbas-bread-dipping-spice-53876#ixzz1DeyNjAMp
1)Combine all of the ingredients, EXCEPT oil and lemon.
2)Put in a small food processor (I used my little food chopper). Chop briefly until all ingredients are about the same.
3)Stir in oil and lemon juice.
4)TO SERVE: Combine about 1 1/2 teaspoons spice blend to 3 to 4 tablespoons olive oil on a small Dish.
*This recipe does use a scant amount of OIL, fine in P3, in P2 you may want to omit.
[2011-02-12]