DAY#341 - ROUND 2 Progress Report 7
I am now in Phase 3, yesterday was my first day and all is going well so far. For the record my weight loss in Round 2 Phase 2 amounted to 53lbs in 56 days. Unfortunately that total includes the 30lbs I had gained over vacationing & holidaying. I am still very pleased with myself and weigh less today than I have ever weighed as an adult. Every once in a while I catch a reflection of myself int he corner of my eye and think who is that kid. LOL
I was so ready for P3 food and couldn't wait to consume some stuff. I had my first real Heavy Cream & Blueberry Jay Robb Shake for breakfast yesterday. I day dreamed about one of them for a long time. It was very tasty. I truly believe that loading yourself with good fats & proteins for breakfast is the smartest move and I will do that daily for P3. I will keep using my shakes in P4 but as I increase my carbs I will decrease the fat and start using whole milk vs. cream.
Yesterday, I went grocery shopping and picked up a few items for my wife and a specific item I had been craving, Cauliflower! I will eat a ton of it and use it in recipes. See the evidence in my grocery cart picture below. :) I love to mash cauliflower and rice it. I plan on exchanging cauliflower for potatoes in my Zuppa Toscana and of coarse use it in many other ways. YUM!
Last night I made Cauliflower Pizza Crust and had pizza. I did not plan to be this adventurous so early in Phase 3. However, my girls had a sleepover and invited some friends and they served pizza for supper. So I was inspired to make the Cauliflower Pizza Crust Pizza for my supper.
For those of you who want the recipe it was pretty simple:
1 cup cooked, cooled, riced cauliflower
1 egg
1 cup mozzarella cheese
1/2 tsp fennel
1 tsp oregano
2 tsp parsley
Tomato sauce
toppings (make sure meats are pre-cooked)
mozzarella cheese for topping
Preheat oven to 450 degrees Farenheit.
Spray a cookie sheet with non-stick spray.
In a medium bowl, combine cauliflower, egg and mozzarella. Press thinly & evenly on the pan. Sprinkle evenly with fennel, oregano and parsley.
Bake at 450 degrees for 12-15 minutes (15-20 minutes if you double the recipe).
Remove the pan from the oven. To the crust, add sauce, then toppings and cheese.
Place under a broiler at high heat just until cheese is melted.
Ricing cauliflower was easy. I opened one of my dozen bags of frozen cauliflower, cooked it in the microwave for 6 minutes. Then ran it through our cheese shredder. Very simple.
For my mushroom pizza with cauliflower crust. 1/2 the pizza, 2 slices (i shared with my one daughter) came out to 379 calories, 33grams of protein 22fat, 12 carbs, 3fiber. Compared to 1 slice of Pepperoni Pizza from Costco 620 caloreis, 24g fat, 68g carbs, 34 protein.
Both my daughter and I agreed we liked the pizza and will make it again. We will however cook the crust a few minutes longer next time.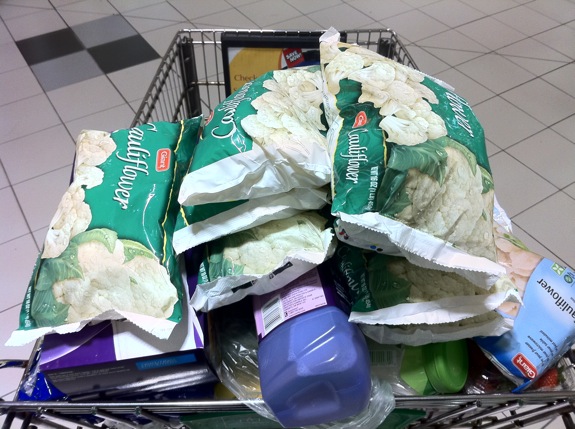 Can you tell what I missed eating in Phase 2?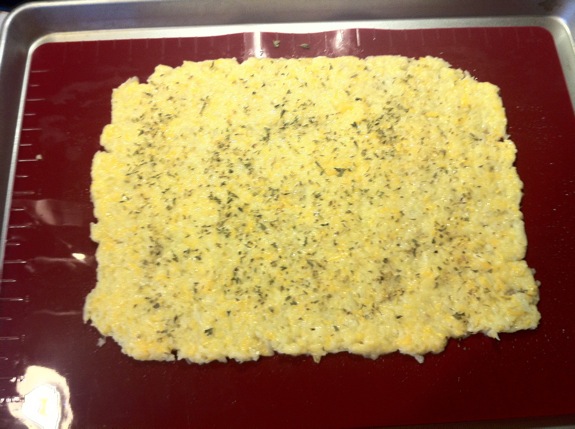 My first new Phase 3 recipe, Pizza with Cauliflower Crust. Sitting on my Wife's
Paula Deen Cookie Sheet with Silicone Insert
.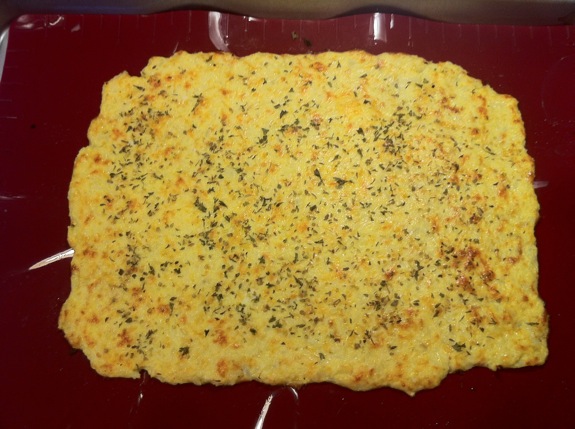 After baking, it was yummy, next time we will leave it in for a few more minutes.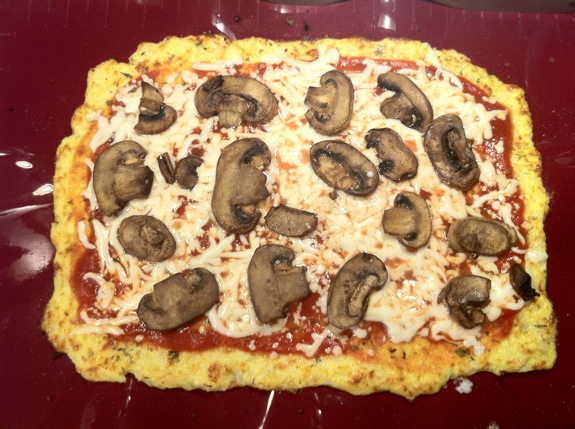 After the crust is baked you throw on your toppings and broil for a few minutes. I shared the pizza and my partner wanted mushrooms. good choice!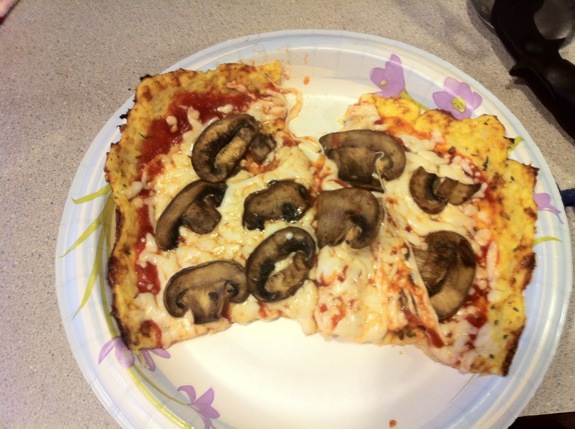 On my extra large paper plate. Yum. I could have eaten the whole thing.
[2011-02-19]