DAY#343 - Some P3 Recipes
I made a few things for my P3 part of my diet this weekend and liked them all. here is what i had.
TILAPIA FROMAGE & ZUCCHINI CHIPS: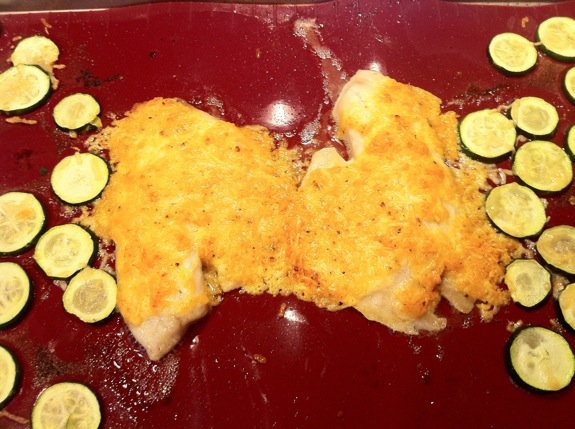 Here is my version of this recipe:
.5 TSP Coconut Oil
1 ounces onion, chopped, about 2-3 slices chopped
1.25 ounce Monterey jack cheese, shredded
1 TBSP mayonnaise
Dash hot sauce
Dash salt
Dash garlic powder
Dash pepper
Dash onion powder
Red pepper flakes, to taste
2 tilapia fillets, about 7oz. total
Combine cheese, onion, mayonnaise, hot sauce and the seasonings; mix well.
Place the fish on a foil-lined rimmed sheet pan. (i used silicone) rub top of fish with coconut oil. Bake at 350 for about 10 minutes or until almost done. Divide the mixture evenly among the pieces of fish; spread to cover the tops. Bake another 10-15 minutes until the cheese has melted and browned slightly. If you want the topping to brown a little more, put the fish under the broiler for a minute or two, watching it closely.
Zucchini chips, I placed on the sheet to bake while fish baked, i tops chips with a sprinkle of salt & pepper and parmesan cheese.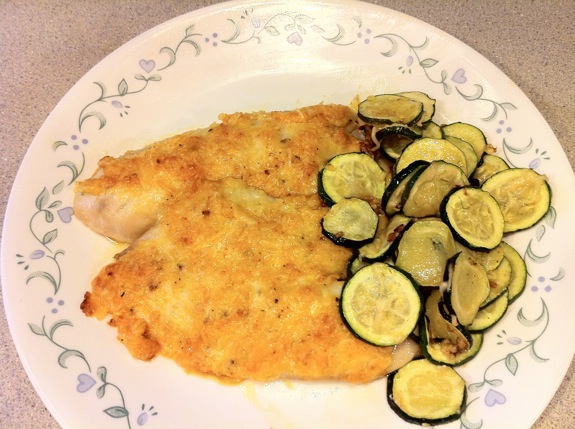 Yummy :)
Parmesan Crackers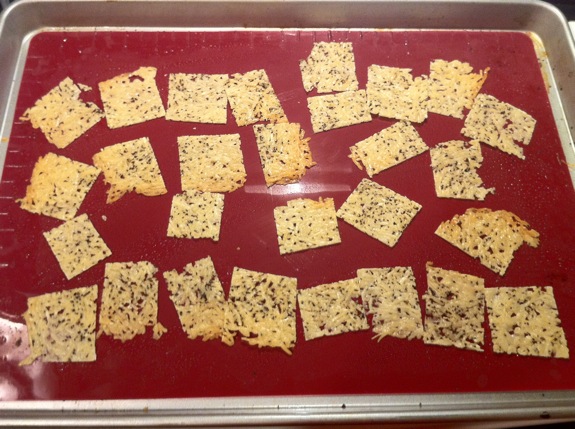 Very simple, I put about 5oz. of fresh parmesan on a silicone baking sheet, sprinkled with a little bit of pepper and garlic powder. Baked at 350 for 5-6 minutes until edges outside were getting brown. Took out of oven, cooled. Then I picked them up and blotted them off with a paper towel I took almost an ounce of grease off of them (yeah I weighed it). Once cooled and de-greased I used a pizza wheel to make the crackers. My guess is with fat removed, 1oz has about 90 cals. 6g fat 0g carbs 13g protein.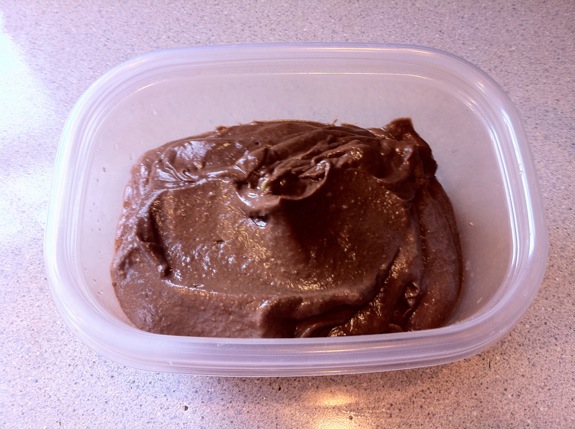 Avocado Chocolate Pudding
I like this recipe with some fresh whipped cream on top.
2 avacados(peeled and de-pitted)
2 TBS cocoa Powder
1/3 Cup Heavy Whipping Cream
1/4 Cup truvia
Throw all ingredients in a food processor and whip it up till smooth. Serve with some yummy whipped topping.
I have made this twice. The second time the avocados were a bit riper and their flavor came through the pudding more. less ripe= less flavor. Your preference.
[2011-02-21]