DAY#32 - GOAL #1 Attained
Today I want to announce something! It isn't amazing enough for a drum roll and it is barely enough to cheer over, but I am happy nonetheless. I got out my Converse wind shirt and tried it on an it fit with some room to spare. My first GOAL achieved. Double w00t! I made Miriam snap a picture or two so scroll down if you need to.
Now I must say that I was just over the line from it fitting when i started and knew 20lbs lost would probably do the trick so it was an easy first goal. Even though it was a small goal I am still pretty happy. It is always motivating to me to be able to taste a bit of the carrot I am dangling in front of myself. So 'I feel good', a little James Brown on a Friday morning, please.
With all the happiness I am still focused on getting out of the 300's and then the party shall begin. I have been working hard this week on focusing on doing better and dropping some weight. I am looking forward to posting my progress check tomorrow!
I also updated my
goal page
!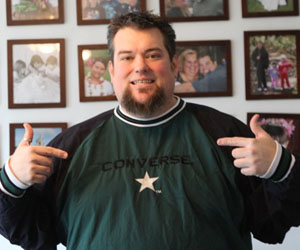 [2010-04-16]