DAY#35 - Amazon Knows!
Amazon.com
is my place to shop. I love it! I probably make purchases from Amazon a few times a month. I love the fact that customers give tons of reviews on the product pages and if you buy at least $25 worth of stuff shipping is free.
Recently Amazon began offering express payments similar to Paypal. Amazon express payments are keyed on a 'pay phrase'. To advertise this fact, Amazon shows suggested pay phrases on their pages for cusomters who are ordering products. Below is a screen capture of my pay phrase suggestion yesterday. . .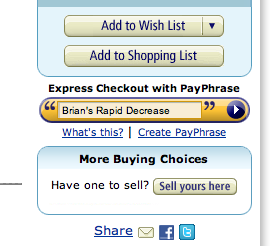 [2010-04-19]