DAY#36 - What are you eating??
I have had several people ask me, "What are you eating?" And once I name it they want to know how I make it. Is the family eating the same food? etc. So a few answers to some questions . . .
Our whole family eats most of our meals together. When I had some basil pesto tilapia so is everyone else. My wife is a great cook and has been very supportive of my lifestyle changes and our whole family is trying to eat healthier. In the past two weeks as I have decided to cut down on pasta, breads, desserts and fats there have been some meals that my family eats that I choose not to eat like spaghetti and meatballs.
At these times I opt to cook for myself. Yesterday in place of spaghetti and meatballs I made myself what I now call 'goulash' and thought I would share my dish with those inquiring minds.
To make the 'goulash' I browned some lean ground beef 96% lean, added some chopped onions, tomatoes, celery, spiced it with a bit of salt, pepper, garlic, oregano and a dash of hot sauce. A nice hot meal with low calories, low carbs, low fat and still good taste.
I snapped two pics, my chopped ingredients & the almost finished product. Hope you enjoy. This is as close to a recipe as I get.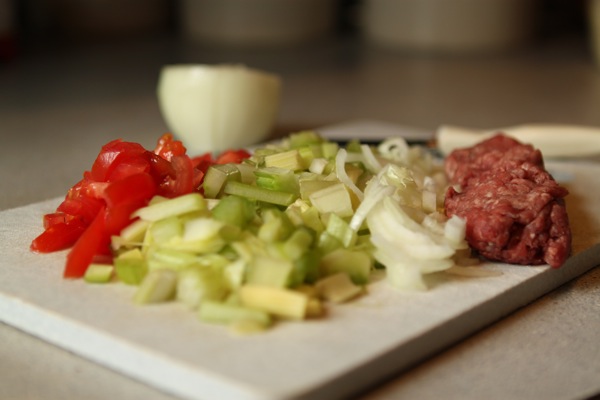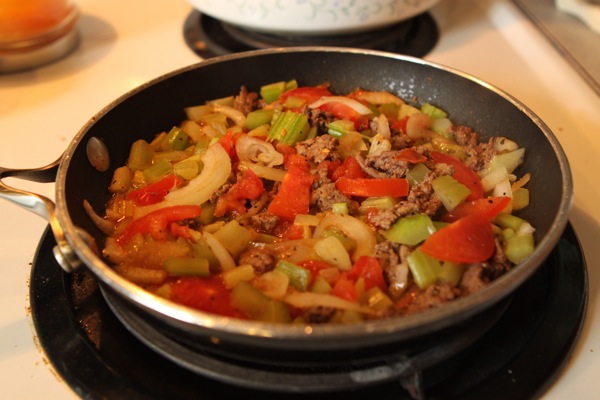 [2010-04-20]