DAY#78 - Huge Milestone
Today I weigh 273 pounds. WOW! Unexpected results, but I will take them. Today marks 80lbs lost since Day 1. What a crazy journey so far. It also marks the completion of my third weight goal 274lbs. There is more green on my
goal page
. I have now turned back the clock about 20 years to what I weighed when I left college. Now 25 more pounds to go to 249. Which will put me closer to 200 than 300!
I am hoping to have another goal completed in the next week or so. I tried on my Levi's shorts that are one of my goals and the now close. However it was a small fight to get them buttoned and they are extremely tight. Another inch or two loss and they will be a great addition to my wardrobe. Cause my other shorts are getting a bit baggy and need the help of a belt.
And now for one last thing, a picture for those of you who support me by reading my rantings. Here is a picture of me today in my tank top I bought for last summer. It was a staple in my wardrobe for the past year and sadly I have now retired it to a PJ shirt. I am down 3-4 shirt sizes(depending on the brand). Happy day!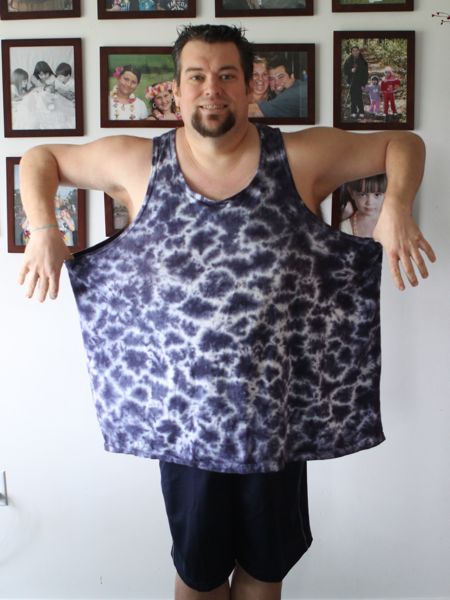 ---------
ADDED A NEW SECTION TODAY CALLED
HCG FAQ
Contains questions people are asking me about my diet and my answers
[2010-06-01]