DAY#94 - My big fat thumb
When you loose weight it seems like it always comes off areas of your body that you don't care about as much as others. I seem to be really good at loosing excess fat in my arms and hands. My wife says when I start to lose weight my arms look like sticks attached to a log of a torso. Somedays I think that is unfair.
But evetually, I do lose weight other places. The only other time I lost a drastic amount of weight, my ring finger became emaciated and as a result my ring slipped off several times and I lost it for 2 months. I was very sad during that time. When I found it I came up with a new solution. I put my ring on my thumb. Why? Well most certainly not as a political statement or the fact that I am artsy or ecentric. Mostly cause my thumb was still fat.
I figured my thumb was similar in size to Hans Brinker who plugged up a leak in his home town dike with his fat thumb preventing disaster in that popular dutch folktale. Well, my thumb came in handy it was nice and fat and my ring has fit snuggly for the past 6 years. Until recently.
Amazingly enough my body has now decided to reduce the size of my thumb. In the past 3 weeks, my thumb has actaully shrunk in size. It is to the point now that when I do hand motions when I am talking it can slide up and down my thumb. I fear during a dramatic story it will eventually go flying across the room.
Why couldn't that extra 3 oz. of fat come off my stomach? Big thumbs are kinda manly, I have never once thought, 'I wish I could lose weight in my thumb.' But alas, that is where God has designed my body to shed its extra ounces.
My wife has been asking me to have my ring resized for years and out of laziness and the fact that I do not like to be without my ring I refused. But it is getting to the point where wisdom will win out and the ring will need to go to the shop.
So for fun, I snapped a few pictures so you can check out my new svelte phalanges.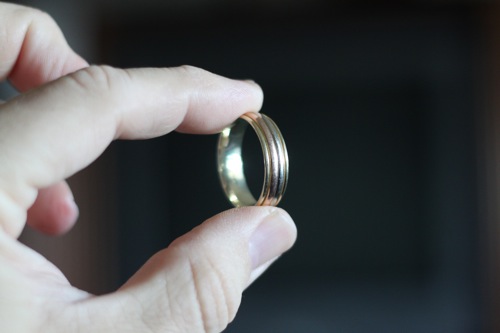 My ring, I love my ring and the woman that gave it to me :)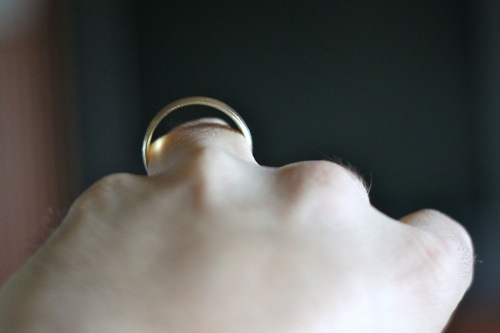 My ring on my ring finger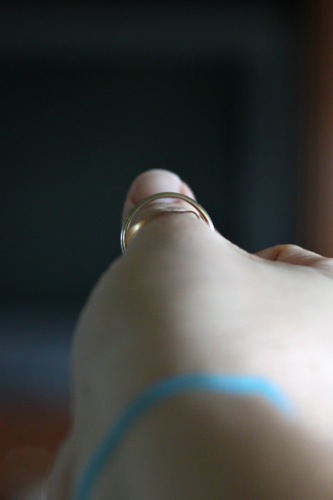 My ring on my thumb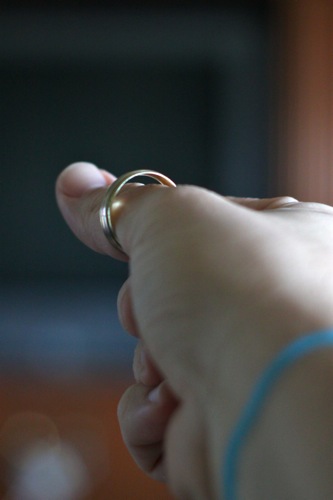 Another thumb view, and yes that is a silly band. My daughter Lois gave me an elephant.
[2010-06-17]