DAY#129 - inches
I wanted to share with you hopefully a bit of encouragement. For those days when the scale stops moving. I just got over a 8 day stall/plateau, mostly, after my first 2-3weeks of HCG, I have held my weight for 3 days then dropped. I have had stalls of up to 5 days, but 8 days is now my new record. I must say that it is hard to see the scale move so fast and then have it stay on the same number for days on end.
I was determined not to do anything different to break my stall. The protocol I am on offers a 'Apple Day', but in reading about it, The Dr. says it is more for the patient to release some water and feel better about life. Well if that is the case, why?
So i just held on and waited it out. So to encourage myself and to test out the whole "if you are not losing weight you are losing inches" part of my diet. I got out the tape measure. So a few results to share in the last 2 weeks, during my stall, i lost 3 inches in my waist, 1.5 inches on my thighs, 1 from my hips, and a half from my chest. So it was good to see those numbers drop.
However, The most amusing thing to me was I went to my closet and put on my shorts I bought a month ago. When I bought them they were tight, they closed but were a bit uncomfortable. I bought them that way so they would fit comfortably with some more weight loss. Well now they are too big. :( I can easily stick my fist in the waist band when it is around my waist. Snapped a pic for amusement purposes. I guess it is belt time or look like a hoodlum with my pants falling down. :)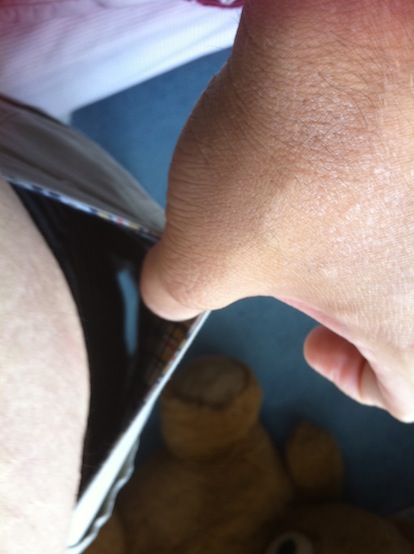 [2010-07-22]